« Return to Previous Page
Wilma Rudolph
Posted on December 11th at 3:31 pm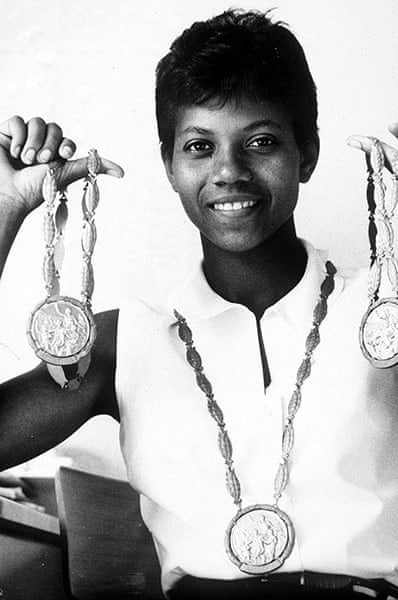 At the 1960 Rome Olympics, Wilma Rudolph became "the fastest woman in the world." A twenty-year-old, African-American woman from Clarksville, Tennessee, gained the attention and admiration of the world as she swept the 100- and 200-meter Olympic races and anchored the gold-medal-winning 4×100-meter relay team. She broke world records, she outran her competition, and she became the first American woman to win three gold medals at the Olympics. But, to see Rudolph in all her success, one would never know that the obstacles she overcame on her way to the podium made her accomplishments even more inspirational.
Born to a poor family in a small town in Tennessee, Wilma Rudolph was the 20th of 22 siblings, and was born prematurely at only four-and-a-half pounds. From birth, Rudolph battled constant health problems alongside her loving and supportive family. She suffered from double pneumonia, measles, scarlet fever, and the polio virus, which left her with very limited use of her left leg.
"My doctor told me I would never walk again. My mother told me I would. I believed my mother," said Rudolph.
She was fitted with a metal leg brace, and her mother drove her each week, for two years, nearly 100 miles round trip to a hospital in Nashville until she was able to walk without braces. She was brave and persistent in her therapy, and her family assisted with her at-home exercises to increase the function of her leg. By age twelve, Rudolph had regained all ability and function in her legs, and a new chapter of her life began.
Rudolph's healing process fostered her strong will and determination, and once she was able, she followed in her siblings' footsteps and pursued basketball. She was a highly regarded athlete on her high school team, and Ed Temple, track and field coach at Tennessee State recruited her to practice with his track team.
By the time Rudolph had turned sixteen, only four years after fully recovering from a condition which could have left her wheelchair-bound, she had earned a spot on the US Olympic team for the 1956 Olympics, where she won a bronze medal. Once she returned home, her training continued, and she developed into a world-class, record-setting athlete—in spite of, or perhaps because of, the struggles she overcame in her early life.
Wilma Rudolph's drive to succeed, along with the support of her family, propelled her from being a paralyzed, young girl to become the fastest woman the world had ever seen. Her successes inspired women worldwide, drawing unprecedented attention to women's athletics, particularly track and field. Men and women, black and white, athlete or not—people looked to Rudolph and were inspired by her accomplishments and her unwavering belief that "the reward is not so great without the struggle."
When Rudolph returned to her hometown after the 1960 Olympics, her homecoming parade and banquet were, by her request, the first integrated events in the town. Rudolph earned a full scholarship to Tennessee State University and after retiring from track and field, she completed her college degree and continued to inspire others through her work as a teacher, a coach, and a civil rights activist. She was inducted into the Black Sports Hall of Fame in 1980 and the US Olympic Hall of Fame in 1983. Named as one of the greatest sports figures of the 20th century, today the Wilma Rudolph Courage Award is presented to a female athlete who exhibits extraordinary courage in her athletic performance, demonstrates the ability to overcome adversity, makes significant contributions to sports and serves as an inspiration and role model to those who face challenges, overcomes them, and strives for success at all levels.
Rudolph received accolades and honors for her great accomplishments, but it was her fight against adversity that was the truest testament to her character. Her life was marked by overcoming the seemingly impossible. When others might have given up, she never underestimated the potential for greatness within her, and she reached her goals with a gracious attitude and persistent positivity.
Hers was truly an investment in a life of uncompromising commitment.